"Big God" Official Monster Magnet Tribute 2011 - Kiss the Right Side of Your Brain.
---
"Rollin' On" Live at the Hardronic Festival, France 2010
---
GET REAL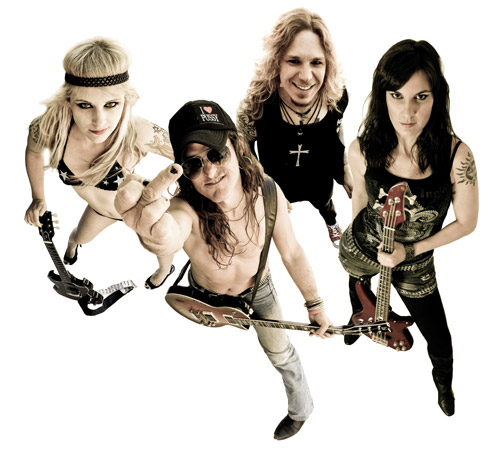 D'ANGLERZ is a hard rock American/Swiss band featuring former members of BACK:N:BLACK, Silver Dirt, McQueen and The Verdict. With roots reaching back to 2007, the band has imbibed inspiration from rock, punk, metal, blues & glam— to forge their own sound defying classification. Rock influences include Aerosmith, Guns N' Roses, Led Zeppelin, Fleetwood Mac, Rob Zombie, Megadeth & Mötley Crüe.
Whether throwing down blistering hard rock anthems or weaving epic themes, D'ANGLERZ has always focused on live shows. "Big God" appears on 2011's Monster Magnet Tribute, "Kiss the Right Side of Your Brain". CERN's 2010 release, "Resonance" features "Still Breathing".
Store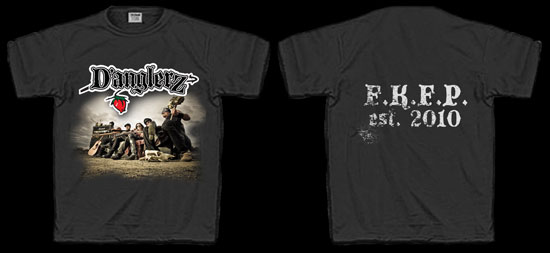 F.K.F.P. Limited Edition T-Shirts
Features D'ANGLERZ 2010
Fruit of the Loom & Steadman shirts with high quality photo print.
Photo by local photograher Gabriel Asper
Perfect for making 80's cutoff shirts.
Mullet not included.
Downloads & Contact
D'ANGLERZ EPK (All in one) Pictures, Band Bio, Riders, Stage Plot, Poster etc (42 MB)
Technical/Production Rider (PDF; English & French)
Band Fiche (PDF Format English)
Booking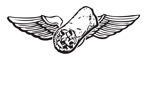 For band availability, please contact +41 76 325 1967 or music@burritobookers.com.
Recent Live Shows:
Warning
: simplexml_load_file(https://www.google.com/calendar/feeds/ifssdk6pgj141h6bl6dfcn177k%40group.calendar.google.com/public/full?showhidden=false&singleevents=true&futureevents=false&orderby=starttime&sortorder=descending): failed to open stream: HTTP request failed! HTTP/1.0 404 Not Found in
/home/clients/ef7e9d95bdbd4fbcf9126b4af32f7b1b/sites/danglerz.net/googlecalendar.inc
on line
110
Warning
: simplexml_load_file(): I/O warning : failed to load external entity "https://www.google.com/calendar/feeds/ifssdk6pgj141h6bl6dfcn177k%40group.calendar.google.com/public/full?showhidden=false&singleevents=true&futureevents=false&orderby=starttime&sortorder=descending" in
/home/clients/ef7e9d95bdbd4fbcf9126b4af32f7b1b/sites/danglerz.net/googlecalendar.inc
on line
110
Fatal error
: Uncaught Error: Call to a member function asXML() on bool in /home/clients/ef7e9d95bdbd4fbcf9126b4af32f7b1b/sites/danglerz.net/googlecalendar.inc:115 Stack trace: #0 /home/clients/ef7e9d95bdbd4fbcf9126b4af32f7b1b/sites/danglerz.net/shows.inc(11): showgooglecal('https://www.goo...', 'false', 'descending') #1 /home/clients/ef7e9d95bdbd4fbcf9126b4af32f7b1b/sites/danglerz.net/home.cus(93): include('/home/clients/e...') #2 /home/clients/ef7e9d95bdbd4fbcf9126b4af32f7b1b/sites/danglerz.net/index.php(11): include('/home/clients/e...') #3 {main} thrown in
/home/clients/ef7e9d95bdbd4fbcf9126b4af32f7b1b/sites/danglerz.net/googlecalendar.inc
on line
115